Posted by
Nifty Galoot
in
Poetry
, tags:
poem
,
yoga
A friend has written a Great Yoga poem 🙂 It's perfect for anyone doing yoga or thinking about getting into yoga and is sure to bring a smile. 🙂 It certainly brought a smile and pleasant thoughts to me as I heard her recite it!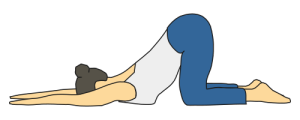 My Inner Eye
My friend is into yoga
She practices faithfully
She tells me it's done her a world of good
And it would be good for me
I resist, but she has an answer
For every excuse I know
Yoga will take me places
I never dreamed I'd go
It will open my breath, it will open my mind
It will teach my soul to fly
I'll see things I've never seen before
When I open my inner eye
And so I cave, I buy a mat
I learn a pose or two
And sure enough,
The part about my inner eye is true!
Downward Dog on the living room floor
I see popcorn under the chair
Dust bunnies under the sofa
Wads of puppy hair
So today I'm getting my exercise
With a dustpan and a broom
Seeing things I've never seen
Right here in my living room
Thank you my friend
I now include yoga in my routine
My inner eye gets a workout
And my living room is clean.
by Wendolyn Lee
She has kindly allowed me to share her yoga poetry by put it on yoga mats and other gear in one of my online shops. -> http://www.cafepress.com/YogaPoem/12192694
Another friend is organizing The 2nd annual Minneapolis Yoga Conference, April 24-26, 2015.
Wouldn't a yoga mat with this poem be great to take to the conference?

No Comments »